International Women's Day is a global annual event, on Wednesday 8th March, celebrating women's achievements, raising awareness against bias and taking action for equality. Together we can forge women's equality and collectively we can all #EmbraceEquity.
We asked some of our female leaders in the network and proud Guild Members what International Women's Day means to them...
Kate Taylor, Director at Taylor and Co, believes that it is important to acknowledge International Women's Day to celebrate the position of women today. She adds: "Compared to that of our forebears who fought so tirelessly to ensure that women were given an equal voice to men, we are in a very fortunate position today. We must remember that some women gave their lives for the rights that many of us take for granted. Were it not for them, we would not be able to celebrate IWD23 today. Although some women in the UK are in a better place than at the turn of the 20th Century, there are still many women both in the UK and around the world who are not on an equal footing and are still suffering both emotionally and physically; it is incumbent upon us to support and promote their plight.
"As I look at the position of women in the property industry today, I am motivated and encouraged by the strong women who I see all around me, supporting fellow co-workers achieve their best and succeed. We all recognise that throughout our careers, our priorities and responsibilities shift and change depending on our age, and we are affected by a range of issues including pregnancy, maternity leave, childcare, promotion and job change, the menopause, adapting to blended families and providing care for our elderly relatives. It is important that as managers within the industry, we realise that everyone's circumstances are different and in line with IWD23's message this year, we look past equality to enabling equity in our teams so that every member, woman or man, has the chance to thrive, as by achieving our goals we will all ultimately be successful. I am proud to be a member of the Guild of Property Professionals and I am also proud to be a female business owner with an independent and dynamic team of women and men around me supporting each other and growing our business together."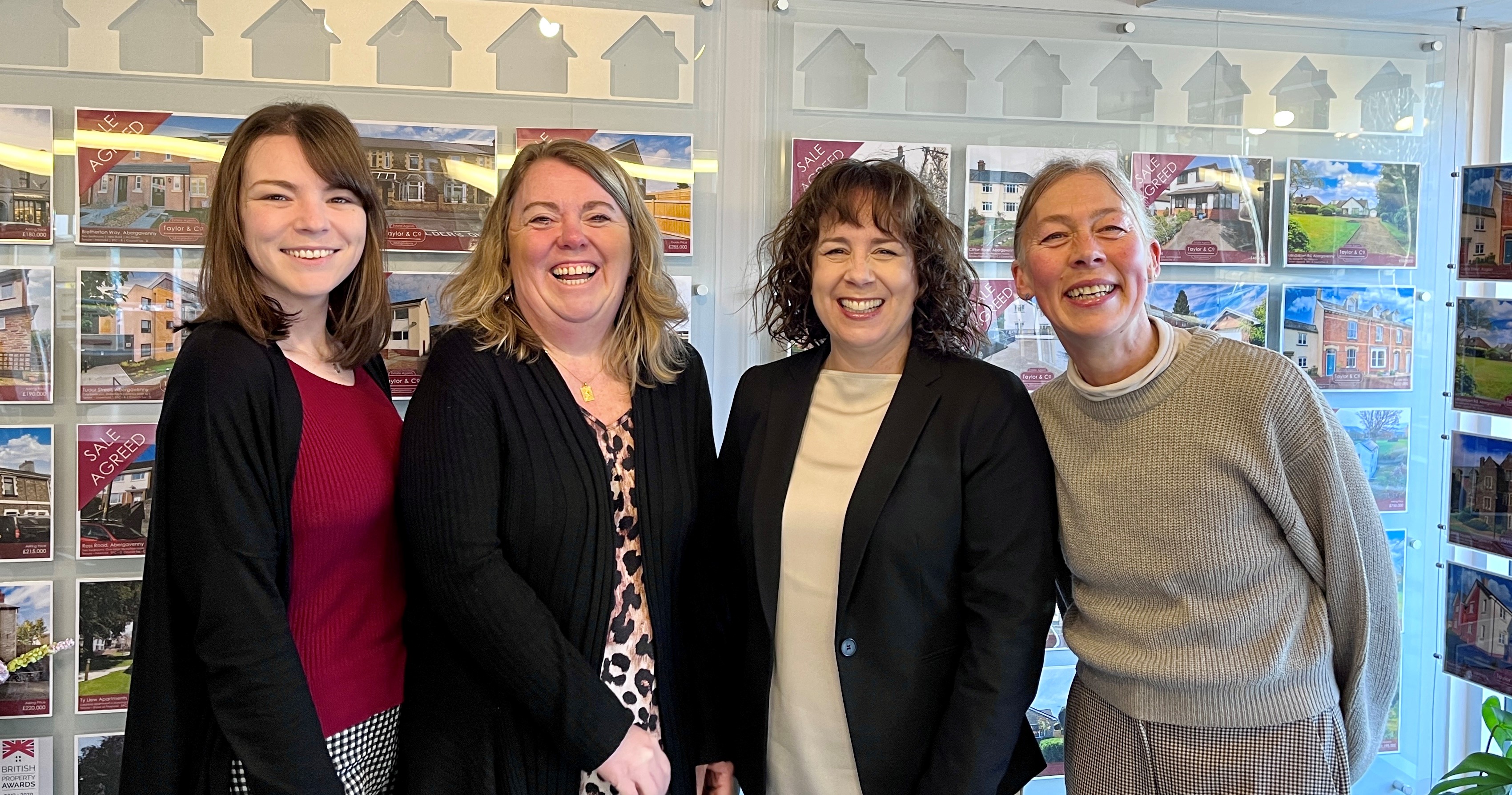 Pictured above: Harriet Eccles - Head of Lettings, Kim Holbrook - Senior Negotiator, Liz Jenkins - Administrator and Kate Taylor - Director of Taylor and Co.
"Every woman has the power she needs to conquer anything. It's the force inside herself which increases, when encouraged by other women, its called WOMAN POWER!' - Anon." - thats the message from Nicola Wijewardene, Director at Redwood Estate Agents. "As the leader of an all-female team, I truly believe in woman power! As a mother to my daughter and the female lead to my team of ladies, I hope to empower them, install self-belief and the importance in building each other up. Women in property bring a whole new dynamic to the Estate Agency career.
"My team of women are a fantastic bunch, they are kind, empathetic and understanding but also get the job done with professionalism. Alongside raising families, supporting dependant relatives, and managing their homes, they truly are superheroes. As a team of women, we are determined to break the stigma of the 'estate agent' in a historically male dominated world, by bringing our fresh, warm, effective approach to the business, while achieving amazing results. Women in property are to be aspired to for being confident and having self-belief and achieving everything they possibly wish to, not letting the misogynistic views affect their goals. You go girls, we've got this!"

Pictured; Nicola Wijewardene – Owner and Director of Redwood Estate Agents LTD, Natasha Hinds – Valuer and Sales Negotiator, Lorraine Beard – Lettings Co - Ordinator and Sales Negotiator, Mandy Buckley – Sales Negotiator, Imogen Rubinstein – Sales Negotiator.
International Women's Day to Angi Cooney, Director at C residential, is a day to celebrate the progress and advancements women have made throughout history and to stand in solidarity with one another to continue the fight for gender equality. She says that it is a reminder to work together to create a more inclusive and equitable society for all genders.
"Here at C residential we celebrate and look after the women in our business because they are an integral part of any successful organisation. Currently, we are a female-led business, not because I employ only women, but because I simply employ the best people for the job. What is brilliant though, is seeing the women at C residential thriving and acting as role models to all the young girls in Staffordshire, which can help break down the barriers for future generations and show them that there is hope, a path forward and a chance to achieve great things in a supportive and understanding environment. International Women's Day is not just a day dedicated to honouring women around the world for their contributions and achievements, it's a reminder that there is still more to do and that we are all in this together, working towards a better future for all."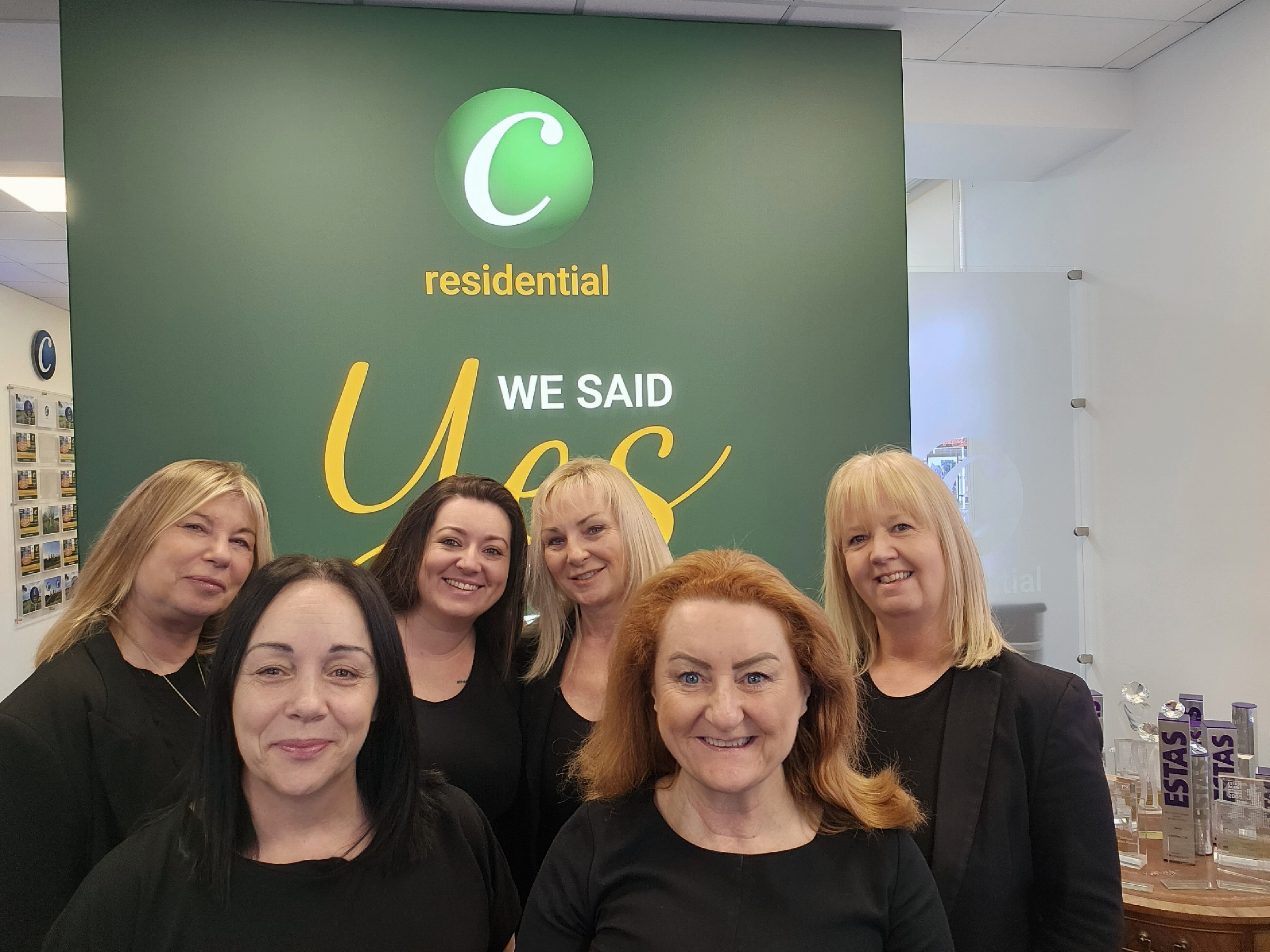 Pictured: Ang O Neill - Sales Valuer, Angi Cooney - Director, Sue Waterston- Sales Negotiator, Anna Belton - Sales Progressor, Nicky Wilmer - Sales Support, Tracey Sorano - Sales Negotiator.
Donna Vincent, Residential Sales Manager at Millbank Estate Agents, says: "International Women's Day is a special day that celebrates the many accomplishments, contributions, and hard work of women around the world. To me, it is a reminder that we have come a long way, but still have much further to go. Women are still fighting for equality in many aspects of society, and International Women's Day reminds us to keep striving for a better future."
She adds, "The event is a day of celebration and reflection, and a time to recognize the many successes of women throughout history. I think it's important to remember how far we've come and the many barriers that have been broken down. It's also a reminder of the importance of standing up for those who are still facing inequality and injustice.
"There are still too many instances of gender-based violence and discrimination, and there are still too many women denied access to education, health care, and other basic rights. We must continue to fight for the rights of all women and girls. International Women's Day is a celebration of the strength, courage, and resilience of women everywhere. It gives us an opportunity to recognize the many strides we have taken towards gender equality, and to reflect on the work that still needs to be done."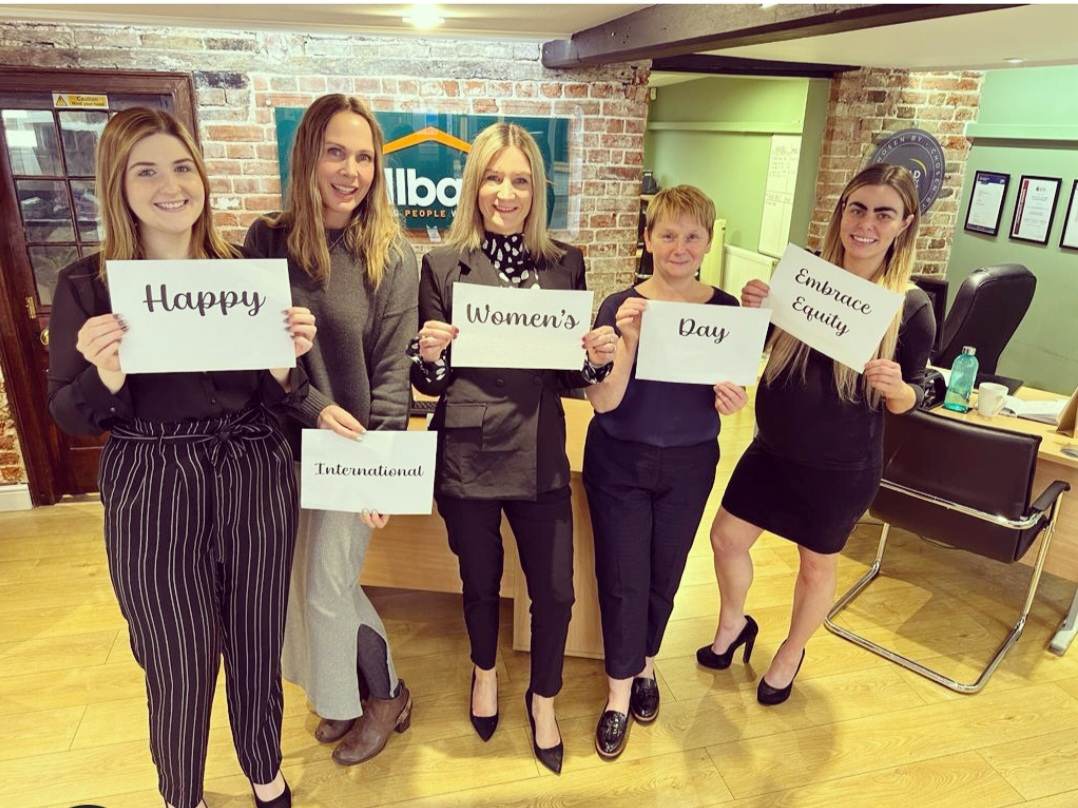 Pitcured: Beth Richardson - Residential Sales Negotiator, Nicole Wylie - Residential Lettings Co- Ordinator, Donna Vincent - Residential Sales Manager, Sharon Richardson - Branch Secretary and Georgie Hector - Residential Lettings Co-ordinator.
For Ailsa Mather and her team at Andrew Coulson Estate Agents, International Women's Day means a lot to their business for being recognised for the work that they do both inside the industry, community, and their families.
She says: "Working full time and juggling a family is never easy, it takes strength, determination, organisation and good sense of humour. The qualities that women in our industry have compared to their male counter parts are empathy, sympathy and are good listeners. We are a proud team and always strive to do our very best with strong teamwork and supporting each other through good and bad days."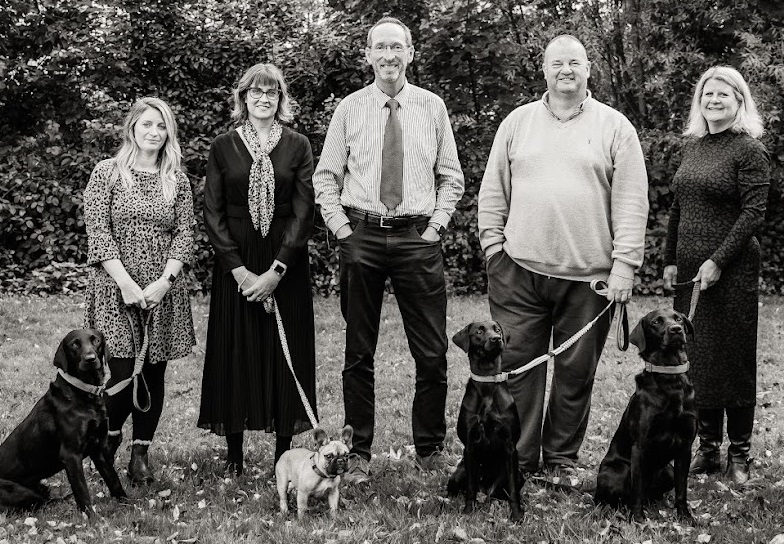 Pictured: Joanne Knowles – Property Consultant, Dog – Monty, Claire Forster – Senior Property Consultant, Dog – Hugo, Martin Forster – Accompanied Viewer and Photographer, Andrew Coulson – Managing Director and Valuer, Dog – Mabel, Ailsa Mather – Director and Office Manager, Dog – Chester and finally (not pictured but not to be left out... Lola the Dog).
Carly O'Rourke, Sales and Marketing Coordinator at Morris Marshall & Poole says that International Women's Day is a day for reflection and celebration. She adds, "Today is a day to appreciate that women's rights are improving, and progress is being made. Women now have a greater variety of choices and support in the fulfilment of their goals than ever before. Seventy percent of our workforce are female, working across sales, lettings, and a rural department, we have some truly wonderful women working wonders in their job roles and no doubt ruling the roost at home."
Senior Negotiator and Valuer, Samantha Draisey from Knights says "When women support each other, incredible things happen". She manages a small team of strong independent women and feels that it is an absolute pleasure and makes her job easier with what they achieve daily. "We make sure that we support each other and bounce off each other's ideas on our day-to-day tasks to be as successful as we are. We believe in being the best of the best, achieving the best we can and celebrating our goals and achievements. The women in this office are encouraged to speak up if they have new ideas or suggestions showing their strength and integrity. Here at Knights Estate Agents, we would like to wish all the strong, independent, amazingly talented women of the world - a very happy International Women's Day!"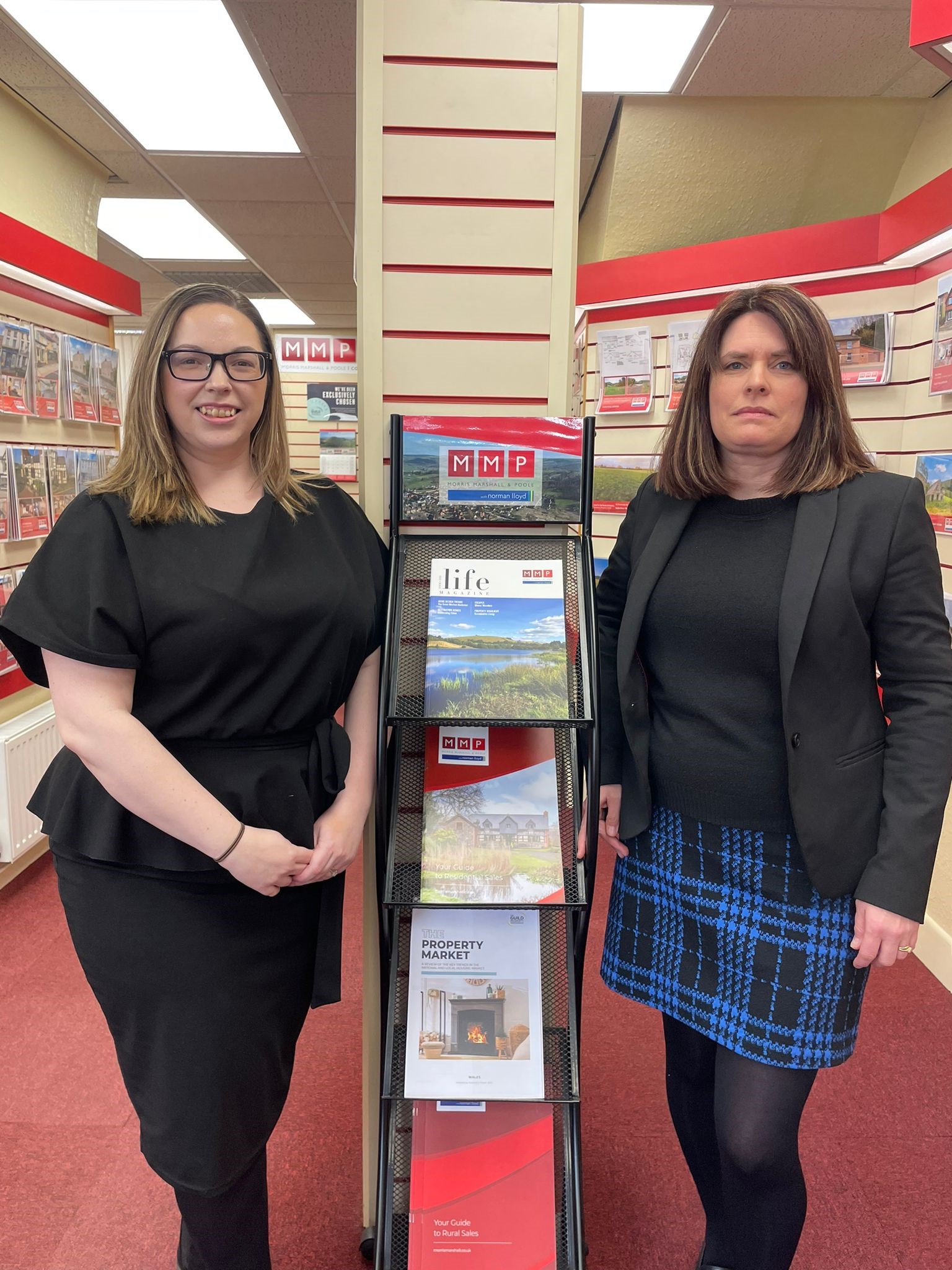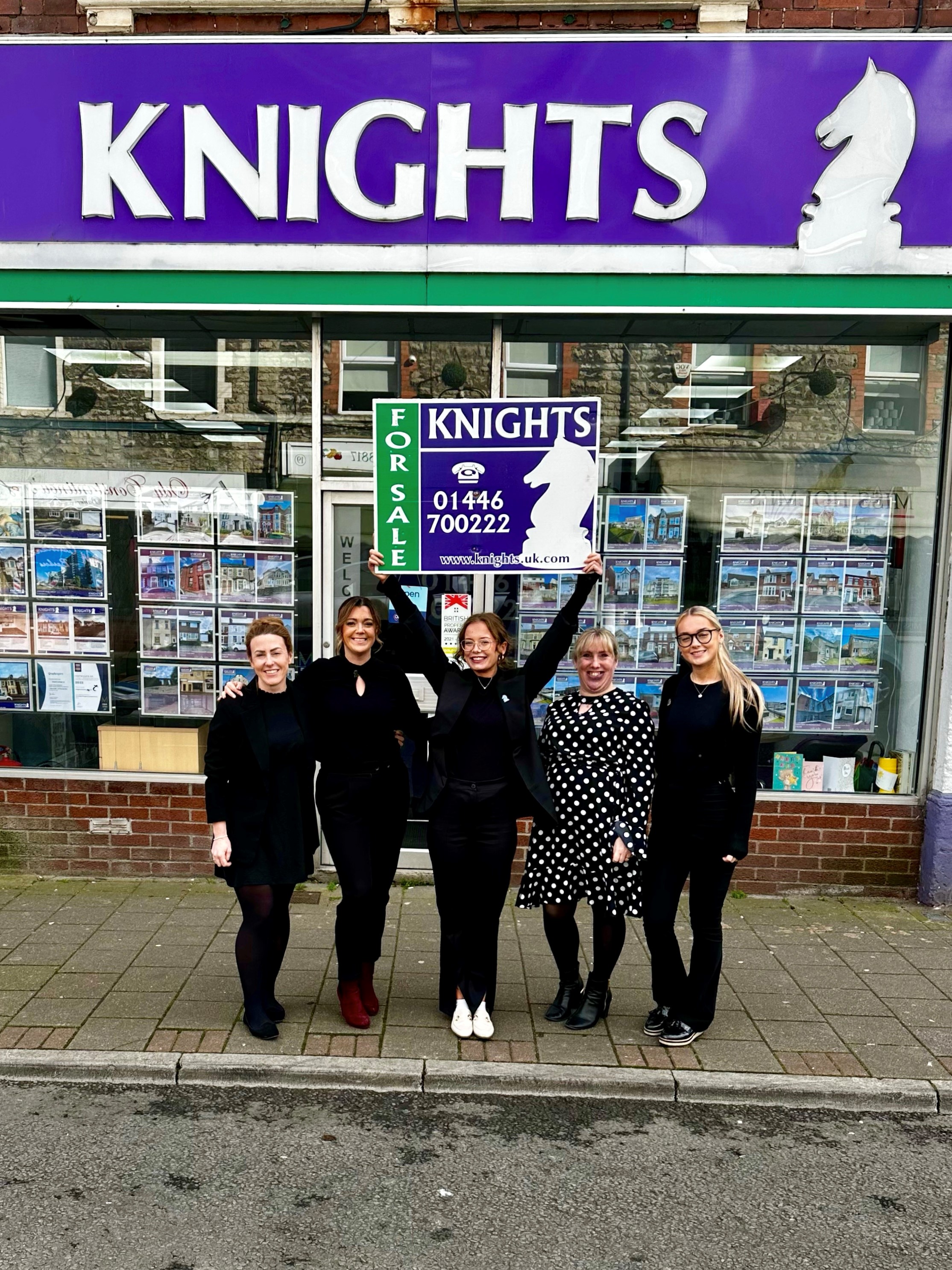 Pictured above left: Morris Marshall & Poole's Sarah Breeze BSc (Hons) MRICS - Lettings Field Agent and Sarah Rees (Hons) MRICS - Lettings Manager. Pictured above Right: From left to right, Natalie Cordy – Lettings Negotiator, Samantha Draisey – Senior Sales Valuer & Negotiator, Rhianna Thomas – Sales Administrator, Lisa Butler – Lettings Negotiator and Georgia Farr – Sales Admin & Negotiator from Knights.
Rachel Johnson, Sales Partner at Chelton Brown, says: "International Women's Day to me means just how far women have flourished over the years. From our predecessors who fought for our right to vote to female presidents, woman bring a fundamental strength to our economy. Often multi -tasking, running homes, raising children, and supporting each other, we are a valid member of the workforce, whether it be our own role or supporting a partner and bringing a different dynamic to a business. Working in the property industry at Chelton Brown we have a higher ratio of female to male employees and a majority of us are over 40! The whole team is amazing and support each other in our roles."
Lucy from Charltons Estate Agents agrees, she comments: "To me, International Women's Day means a celebration of all women from whatever background they are from. Time and time again, women have proved how competent, intelligent, and strong they really are, whether it is in the workplace, education or a home setting, women have always been seen as the nurturer and they still are, but there is more to them than that, and it just proves how efficient they really are at balancing work, families, and a home. Our core team is female, and we work really well as a unit, we must be doing something right as most of us have been here 25 years plus!"
The Home Stretch Podcast
To further celebrate International Women's Day, we have recorded two very special episodes of The Home Stretch Podcast, with some of our proud female Guild Members. Launching on Wednesday 8th March. Make sure you are subscribed to be the first to hear.


Contact us today!
We're proud of the powerful, influential female leaders at The Guild of Property Professionals. Thank you for making us feel empowered! To find out more about becoming a Guild Member click here.
To search for your dream property with experts in the industry, across the UK, get in touch with your local, trusted, knowledgeable Guild Member.