Your garden is more than simply an outside space; it is an extension of your home. So, just like you would any other reception room, why not make it aesthetically attractive, ergonomically appealing and temptingly tidy? Not only will making small improvements to your garden create a welcoming oasis for yourself and your guests to enjoy, but it should also increase the value of your house. Having the benefit of your own green space is already a favourable position to be in when it comes to selling your home but creating the best garden possible will make the offering much more inviting to potential buyers.
A lick of paint here, a fashionable accessory there, and voilà; a new entertaining area awaits!
Freshen up
Our number one tip is simply to keep your garden clean and tidy all year round. The easiest way to ensure the area is free of clutter is to create storage, such as a little cubby to hide or scatter throws when they're not in use; most rattan furniture comes with built-in storage. You can build shelving that is out of view to place your watering cans and other gardening tools upon – not only does it keep the area organised, it also makes things easy to find when you need them. When it comes to cleaning your outside space, it is important to ensure your patio is well maintained by sweeping it regularly and scrubbing the slabs every few months. Always make sure that you are using the appropriate amount of force when cleaning a patio; some slabs may not be suitable for pressure washing, so be sure to check which method is best. Weeding your outside space is also of great importance; this easy-to-do chore will make a huge difference to the appearance of shingle, patios and flower beds. Whilst using a chemical weed killer might seem like the quickest and most efficient solution, there are plenty of natural measures you can take in order to protect wildlife. Even boiling water or household vinegar can work wonders in killing off young weeds.
No need to colour within the lines
When we think of gardens we think of the natural hues of green plants and grass with hints of brown from trees and fences; breaking up the monotony of these tones is a great way to add interest and intrigue to your outside space. Colourful plant pots are the easiest way to add accents of colour into the area and offer you the chance to get creative with your colour pallet. There really is no end of options when you are playing with colour in the garden as you don't necessarily need to complement colours, just as mother nature intended.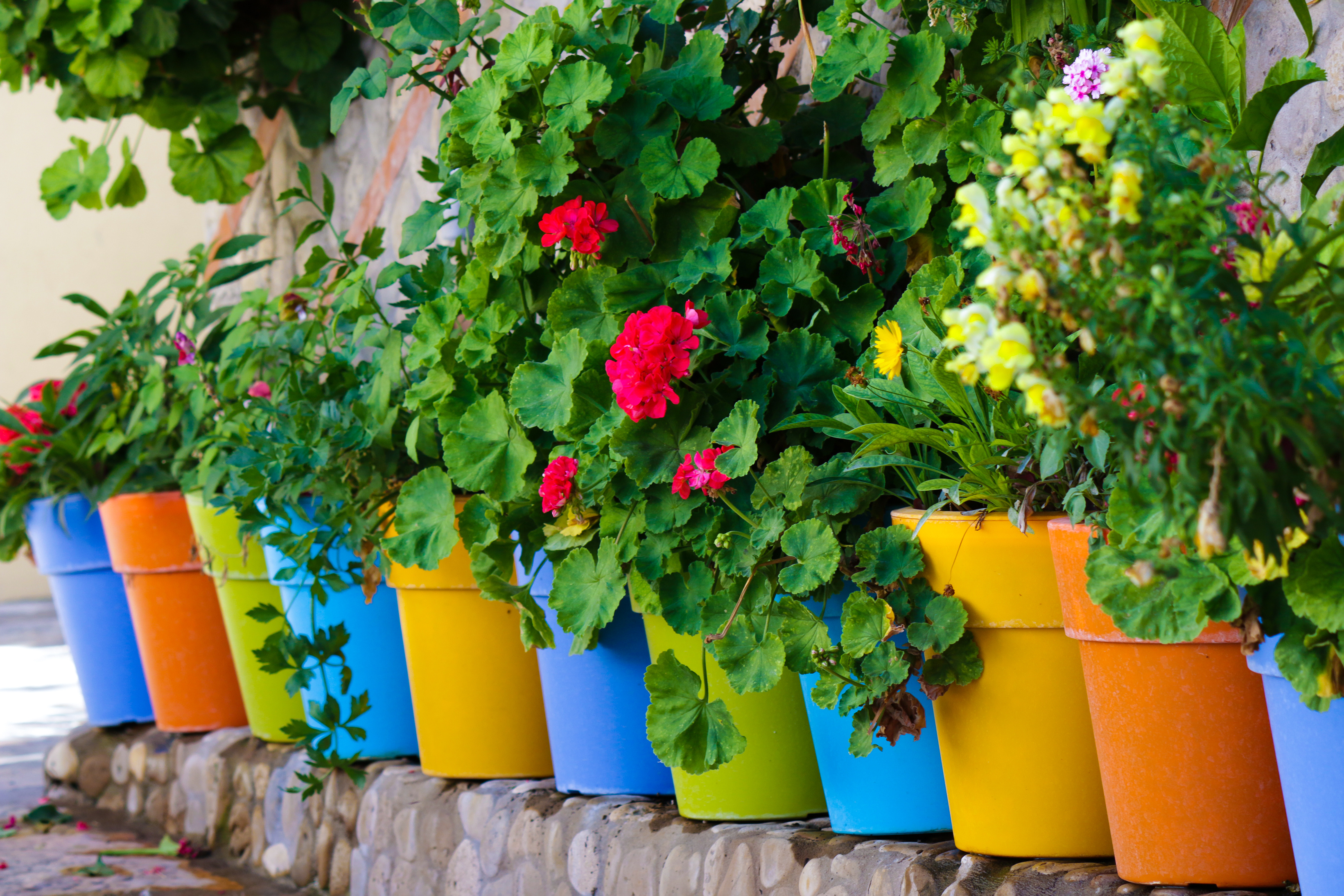 Don't be a grass
If having the time to maintain a lawn is a luxury you just don't have, investing in artificial grass is the perfect way to entirely irradicate the need for mowing, strimming and treating. With great advancements in recent years to the look and feel of artificial grass, there is no reason why this solution shouldn't be used as a like-for-like replacement for your lawn. It is durable, weatherproof and robust, minimising your monthly upkeep. However, there are still many pros to keeping a stretch of natural grass in your garden as it offers great biodiversity and, of course, is far more environmentally friendly overall. If a lack of time or a change in ability has left you concerned about the upkeep of your lawn, consider hiring a company to maintain the area for you, this stress-free stopgap will keep your garden looking its best with minimal effort on your part.
Islanders, please gather around the firepit
How could we write a blog on gardens without mentioning the outdoor piece everyone is raving about – the firepit? Ranging from a simple off-the-floor bowl for lighting a mini bonfire, to an extravagant designer cube with built-in marshmallow toasting zones, there is an option for every budget and garden. This outdoor luxury will create a focal point for the rest of your garden to centre around. It will also ensure your guests are kept warm and snug well into the chillier evenings.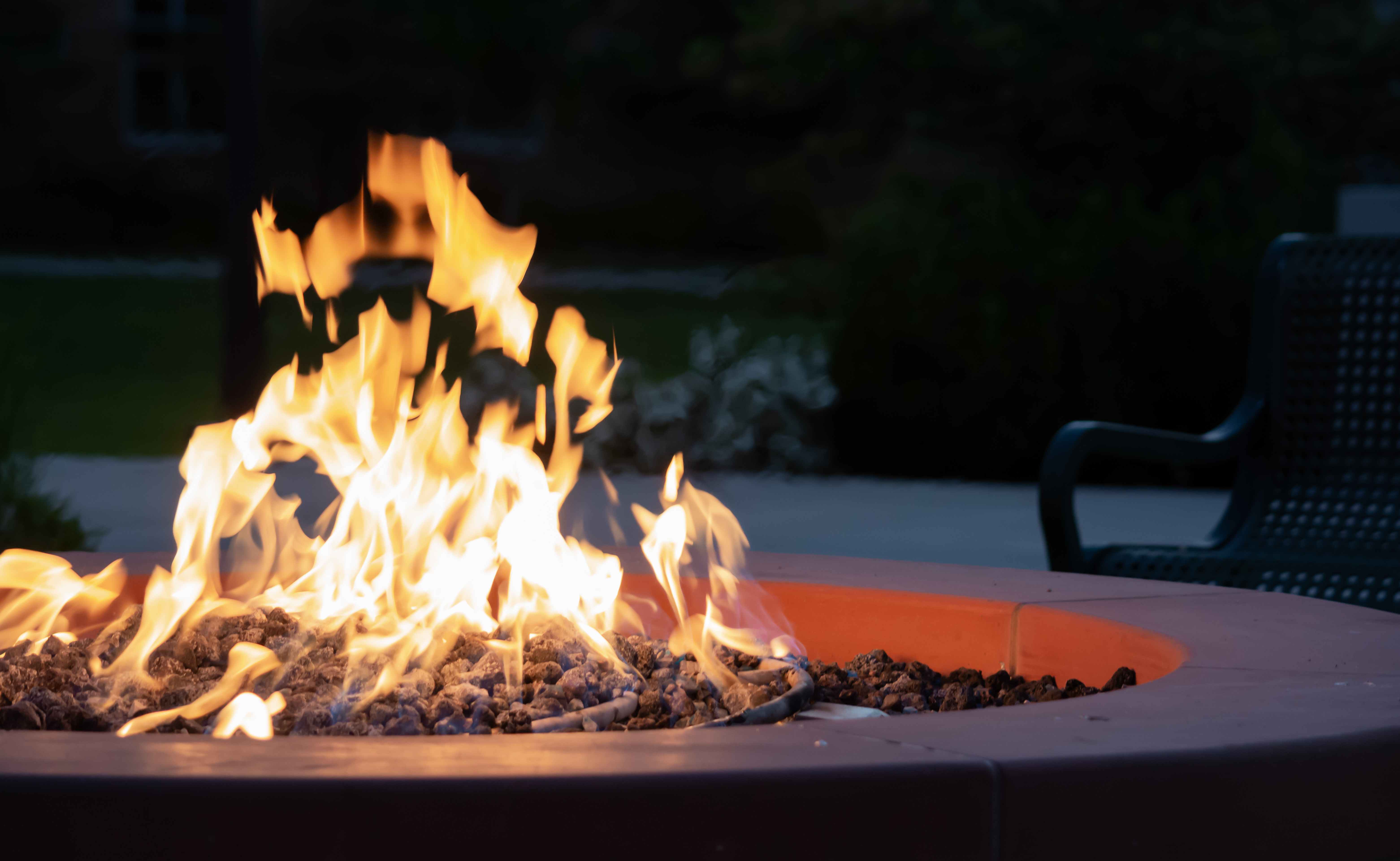 Rest and recuperation
Utilise your space to create a corner dedicated to relaxation. One of the most popular garden furniture trends of the season is the wicker egg chair. Whether static or hanging, this statement piece is both stylish and comfortable. There are many other options, however, when it comes to furniture to relax in. The classic rattan sofa set is a staple for many outdoor spaces; this large area of seating offers the perfect opportunity to dress it with throws and cushions. Use this as another chance to add accents or colour just like your plant pots. You could even create a centrepiece here with the aforementioned firepit. Another fashionable asset for gardens this year is the outdoor rug, creating a continuation from inside the home into the peaceful relaxation corner you have designed for yourself.
A lick of paint
Sheds don't have to be brown, you know, and fence panels come in a variety of colours these days. There are lots of different shades of outdoor paint to chose from in your local hardware store, and we would recommend getting testers of these paints just as you would if you were painting the walls inside your home. Remember, the garden is a continuation of your inside space, so decorate it with the same attention. When it comes to choosing a colour to paint your wood panels, it is important to consider what is on and around them. For instance, if you have trailing or crawling foliage, you may wish to paint in either a dark blue colour to create a contrast and really make the natural greens pop or magenta for a more dramatic look. Steer clear of pale colours; not only do they become grubby quickly, they can also make your garden space seem smaller than it actually is. There is much preparation to be done before you paint your fence or shed, including preserving the wood and selecting a brand of paint that will protect the wood too. You will also need to consider the maintenance and upkeep of these painted areas.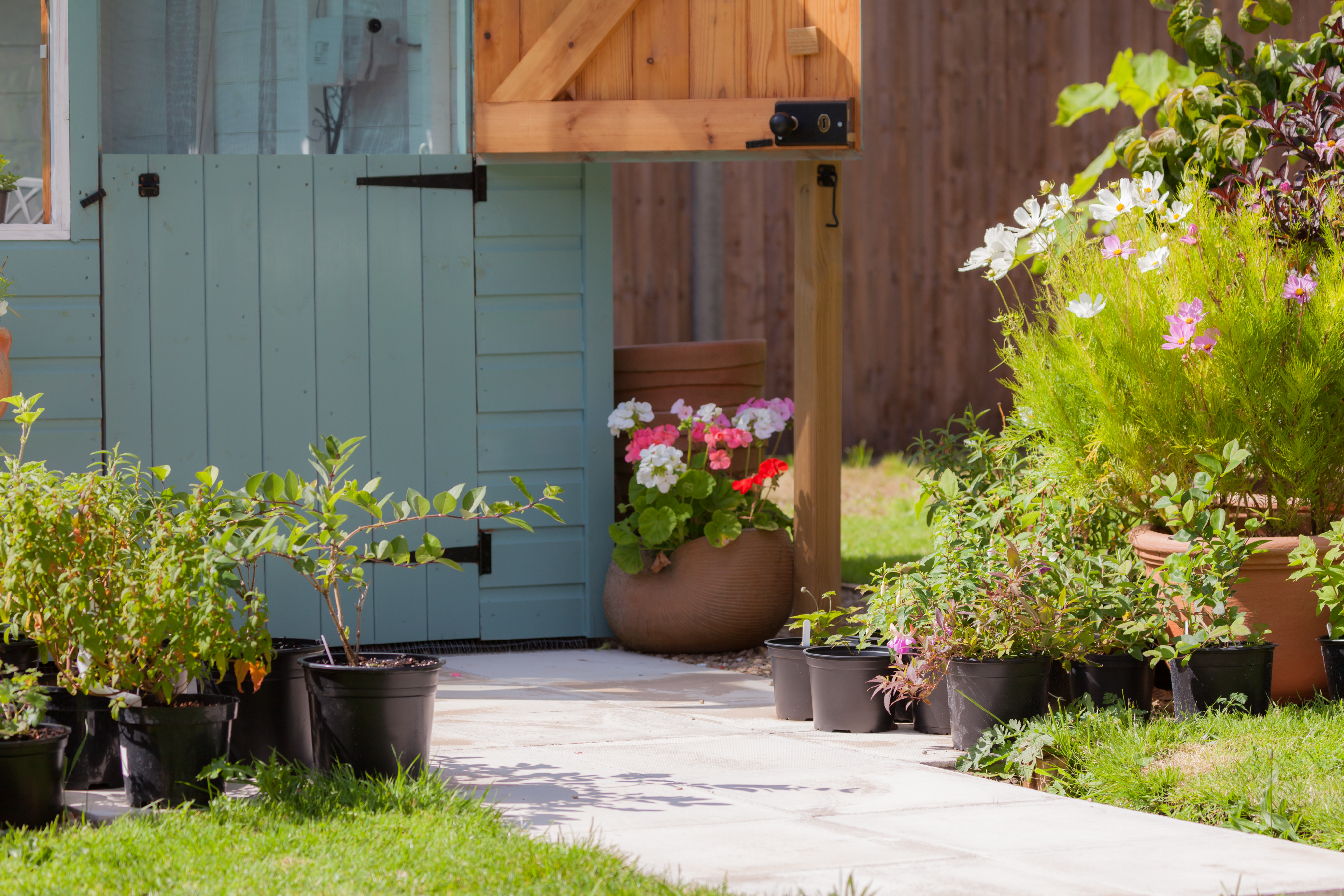 Under the covers
With the unpredictable weather we experience in the UK, it is not a bad idea to create a covered area of the garden. Whether it be with a pergola and a canopy or a semi-permanent gazebo, these can create some welcomed shade in the summer months or a well-utilised shelter when that incontestable rain arrives.
We're a 'succa' for this tip…
If you are not the most green-fingered of people, then consider planting things that don't need much care and attention. Succulents are a great example of a plant that can flourish without the need for daily watering. Consider creating a rockery to keep your succulents healthy and thriving in an area that looks edgy and well-designed in your garden with relatively no maintenance. Also, take note of perennial flowers as these are plants that tend to grow quickly and will either regrow year after year without the need to replant them or stay evergreen throughout all seasons. Examples of perennials include Yarrow, Michaelmas Daisies, Elephants Ears, Crocosmia, Delphinium and Geraniums.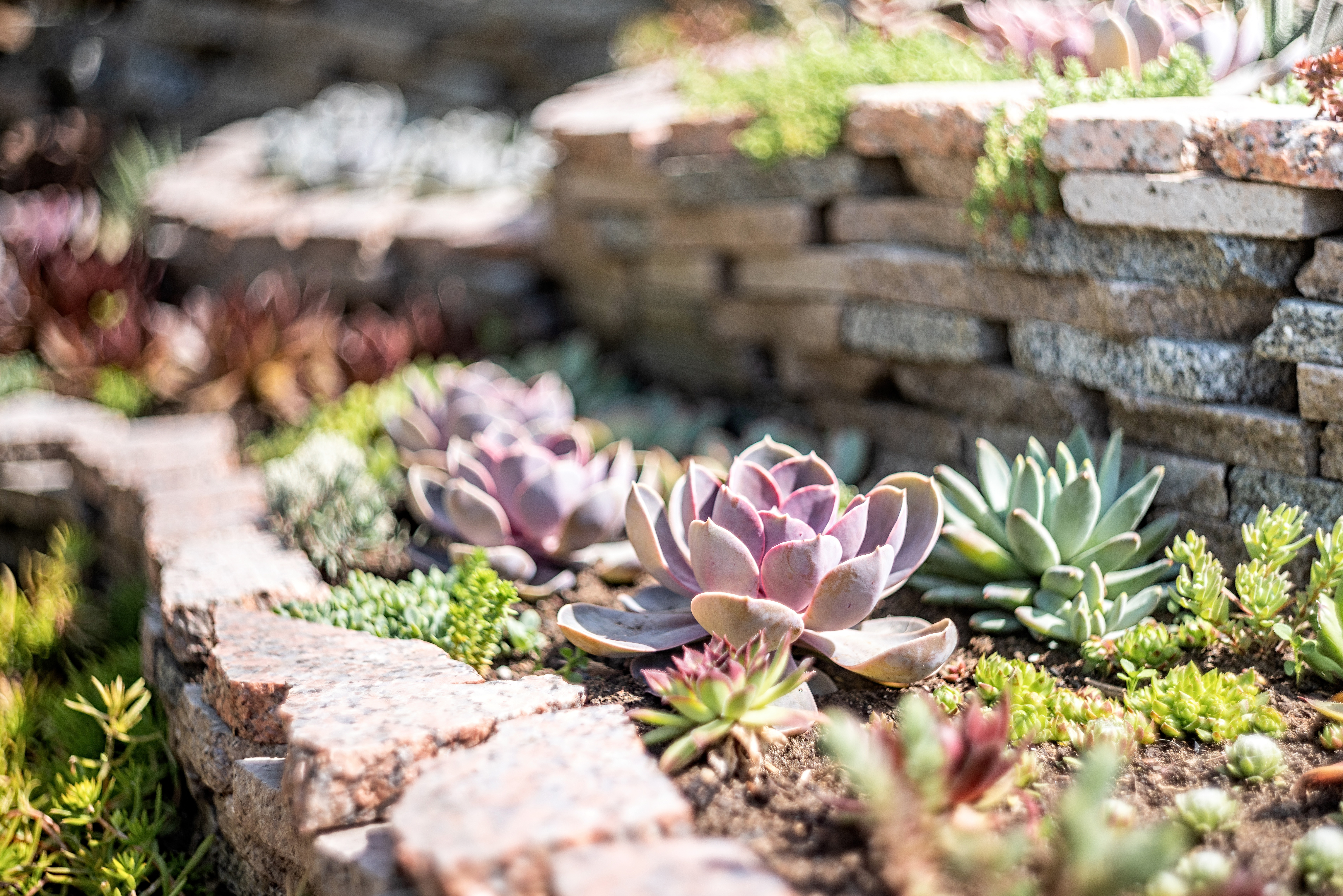 Mirror, mirror on the… fence
Any interior designer will tell you that using a wall or floor mirror will make a room seem much bigger than it actually is; the same is true for outdoor spaces too. Hanging a large mirror onto a fence or an exterior wall creates the illusion of more space, especially in a busy area of the garden, where there are lots of plants or trees. The reflection of the leaves and flowers in the mirror forms a repetition, making it seem like there is more greenery. Mirrors can also add depth to a smaller garden or even replicate the look of an additional window, flooding even more light into an already bright outside space.
Lights, camera, action
Finally, it seems a waste to have this beautifully manicured landscape to only make use of during daytime hours. Lighting your garden is a must to be able to utilise the area all day and late into the evening. String lights come in an array of designs, from dainty fairy lights to statement bulb-shaped lights to hang from your fence or around the pergola. These can be a simple but pretty way to keep the area well-lit. Solar-powered lights are increasingly popular, and with many gardens not having their own power source, these are the perfect solution – charging themselves throughout the day, they shine bright all night. Use floor lamps as well as string lights to create different levels to your outdoor space. Floor lanterns and light up globes are trendy pieces that can enhance pathways and illuminate flower beds.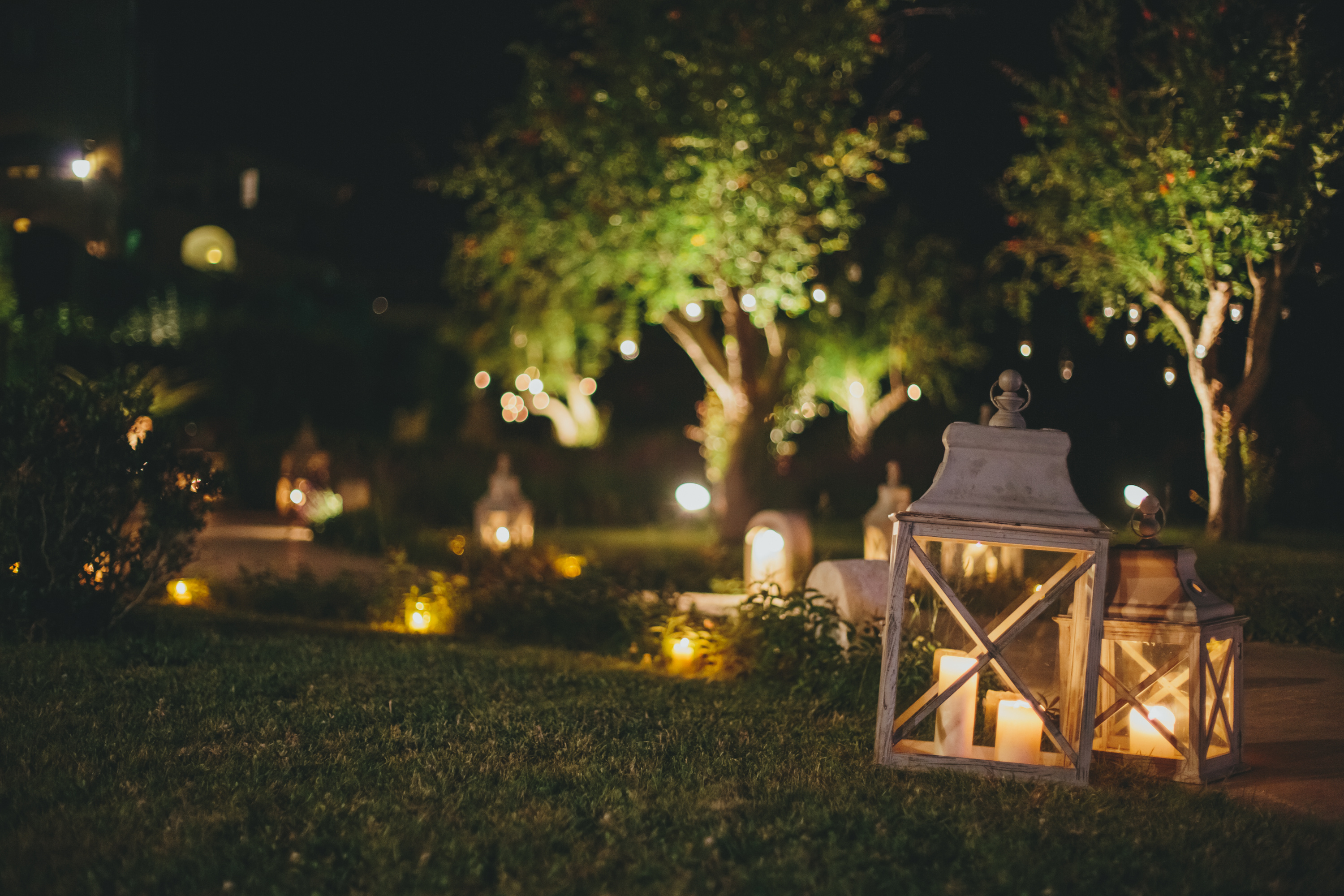 Contact us
If you are on the lookout for a property that already has a gorgeous garden, begin your search today by contacting your local Guild Member.