Two weeks on, and the world (or at least the UK) seems to be getting to grips with the implications of our historic vote. The trains and buses are running as usual, cash dispensers are still working, and some of the frankly wild speculation is dying down (remember the talk of 'emergency budgets'?). Marcus Whewell, CEO of The Guild, explores the uncharted territory and some of the more intelligent predictions that are emerging.


Finance
The Bank of England have taken early action to boost liquidity, ensuring that the banks can continue to lend. It is also quite likely that interest rates will fall to historically low levels over the next few weeks as they seek to retain consumer confidence and spending levels. This may not necessarily be passed on to mortgages in the short term, but it does suggest a continued period of very competitive lending for the next 12 months.
George Osborne has also relinquished his target of balancing the budget by 2020, and this is another clear indication that the Government will continue to 'pump prime' the economy to help stave off any recessionary influences.
Economy
As sterling falls, exports become cheaper, providing a valuable fillip to manufacturing, maybe boosting employment. However, the costs of imports will rise so there should be a gentle upward trend in inflation, meaning the Bank of England will need to maintain a careful watch. This, in turn, may put some upward pressure on interest rates from 2017 onwards (as this is the Bank's main lever to influence its key objective – control of inflation).
Unusually, we are experiencing both inflationary and deflationary pressures simultaneously in the UK economy, and these should balance out to provide a steady state economy for the next 18 months.
Property
I believe that we will see very different performances for residential and commercial property.
Commercial may suffer quite significantly, as businesses look to reduce risk and costs, and delay major new ventures. This is already being highlighted by several investment houses suspending their property funds, which are mainly vehicles for pooling commercial investments. Lease costs may well fall as owners, such as pension funds, try to prevent voids or empty buildings. Owners may also have to sell property below book value to meet other commitments, which might put pressure on commercial property prices across the UK. This is unlikely to adversely affect the major banks, as they have deliberately reduced their exposure to this sector over recent years.
In the case of residential property, we can expect further price rises as demand continues to outstrip supply, although maybe moderated downwards to between 2% and 5% p.a. If the larger developers delay some big projects (as they wait to assess future yields and construction costs rise with shortages in labour and increases in material prices), this will further restrict the number of homes and again tend to nudge prices up.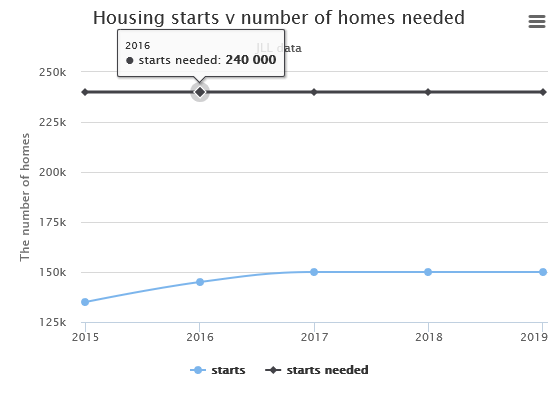 So Brexit may make the average house cheaper than otherwise might have been the case, but could also deplete the number of houses being built.
We might also expect investors to seek safe havens for their assets; the price of gold has already seen more than 25% increase, and normally residential property is also seen as a relatively secure option – another factor that might mitigate any deflationary tendencies.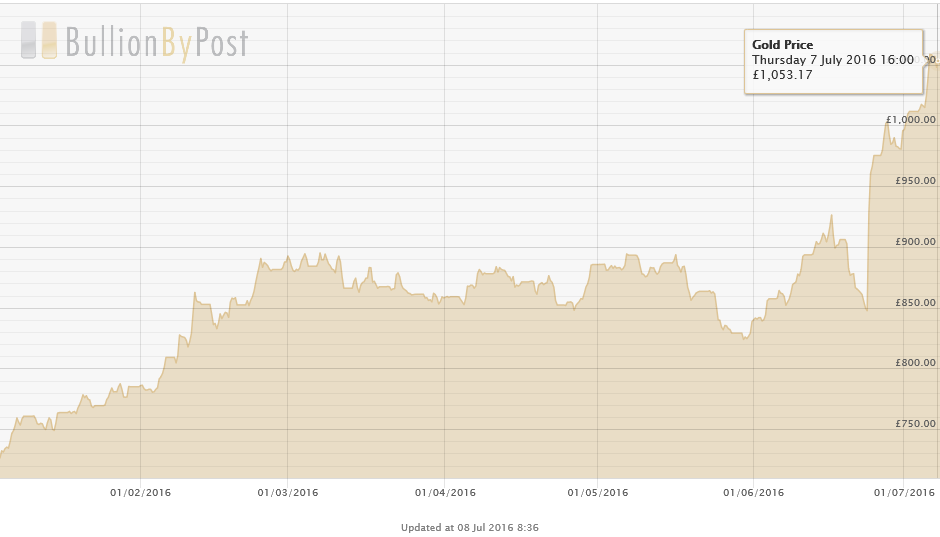 London will probably fare even better, given foreign investment is attracted by sterling depreciation, the reputation of the capital, and continued attractive yields on rental properties. Already estate agents are reporting a trebling of new instructions and 10% higher sales agreed since the referendum result, as confidence starts to return.


Mortgage rates have also fallen further, with 2 year deals available at under 1%, and remarkably 5 and 10 year fixed rates at under 2.5%. If mortgagees wanted to reduce their risk, then this is an ideal time to do secure some remarkable deals!
Currently, vendors are still delaying coming to market (there are apparently many more buyers than sellers, which is not logical), but there are signs that they are becoming more realistic over offers received; higher levels of transactions would be good news as this reduced the strain on longer chains and should reduce the number of fall-throughs.


For rentals, 'buy to let' has already started to pick up after the Stamp Duty changes in March, and the weakening pound may attract more foreign investment. If house prices were to fall, this would increase yields and encourage more investors to the sector; but returns are expected to remain above 4% and with uncertainty in the eyes of some potential buyers, this may encourage people to continue to rent rather than buy in the short term which would sustain or even slightly increase rents.
Consumers, businesses and investors all dislike uncertainty, and therefore it may take some time for confidence to return. However, the outlook for the UK residential property market is generally benign, given the increasing demand for housing and the remarkably low costs of borrowing.