While an economic storm is brewing, the property market continues to be brisk as a shortage of properties to sell continues to underpin market activity.
Sales
Brisk Market
The housing market remains busy. Compared to the last 'normal' market of 2019, buyer enquiries are up 31% and mortgage approvals and sales are up by 12% and 11% respectively. However, there are half as many properties available to buy and stock levels are down 55% (Rightmove, HMRC, Bank of England). The prolonged mismatch between demand and supply continues to support prices. On average, properties are selling subject to contract in just 31 days, the quickest time ever recorded. With competition for properties remaining high, Rightmove report that asking prices have hit their fourth consecutive record high in as many months.
A perfect storm
Economic headwinds are gaining momentum. Expectations of global and UK economic growth have been pared back, while consumer confidence has plummeted to its lowest level since records began in 1974. Optimism is weaker than during the global financial crisis, Brexit or Covid-19 (GfK). The Covid recovery, war in Ukraine and rising energy and food prices, alongside a strong labour market and low unemployment, have created a perfect storm. Inflation is pushing a 40-year high. Thanks to fixed-rate mortgages, many households are cushioned from the impact of the latest base rate rise, but day-to-day budgets are increasingly feeling the squeeze.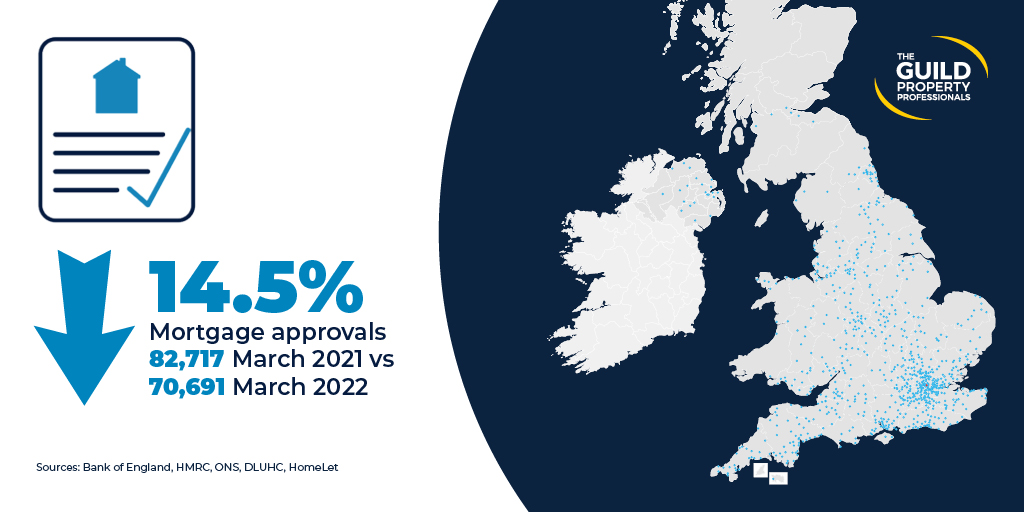 Slow gear change
For many, the question is when, not if, the property market will start to moderate. However, any gear change is liable to be slow and steady, and not an emergency brake as was the case in the global financial crisis of 2008. Forecasters still anticipate positive price growth over the course of the year. Market fundamentals remain strong. A strong desire to move remains in the minds of many and there is a shortage of properties, compounded by data indicating that new home completions remain below pre-Covid levels and short of the government's 300,000 homes target.
Lettings
Rental records
Rental values continue to rise across all regions of the UK, the average rent per calendar month reaching a record high of £1,091 (£920 excluding London). Demand remains considerably higher than a year ago, with a shortage of properties to let meaning properties are letting quickly, on average in just 14 days (Zoopla). Unsurprisingly, areas with the most shortages have seen more substantial price growth. While the majority of agents now expect rents to rise into the summer, affordability constraints may act as a ceiling for further growth as the year progresses.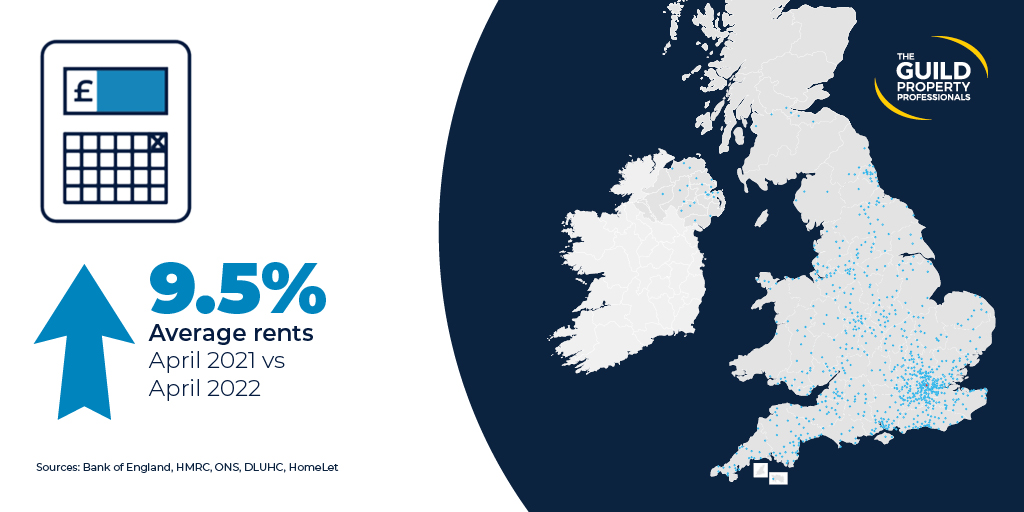 Regional Reports
Browse our Regional Market Reports:
● Market Report 2022 Summer East Midlands
● Market Report 2022 Summer Essex, Norfolk and Suffolk
● Market Report 2022 Summer Hertfordshire, Bedfordshire and Cambridgeshire
● Market Report 2022 Summer London
● Market Report 2022 Summer North East, and Yorkshire and The Humber
● Market Report 2022 Summer North West and North Wales
● Market Report 2022 Summer Northern Ireland
● Market Report 2022 Summer Scotland
● Market Report 2022 Summer South West - Devon and Cornwall
● Market Report 2022 Summer Southern Home Counties - Surrey and West Sussex
● Market Report 2022 Summer South East
● Market Report 2022 Summer Southern - Hampshire, Wiltshire, Dorset and Isle of Wight
● Market Report 2022 Summer Thames Valley, Berkshire, Oxfordshire and Buckinghamshire
● Market Report 2022 Summer West of England and South Wales
● Market Report 2022 Summer West Midlands and Wales
Contact us today
To see a full copy of The Guild's spring market report and for further guidance on the home moving process, take a look at the regional property market updates or get in touch with your local Guild Member today.