As the UK is committed to reaching net-zero emissions by 2050, the Government is looking to property developers and new homeowners to take responsibility for the planet in small, but significant ways.
This is why, new legislation states that every new home built from 2022, with an associated parking space, will be required to have an electric car charging station installed in a bid to boost demand for the vehicles. The new rules will apply to both homes and non-residential buildings built either from scratch or undergoing major construction from January this year.
While this is great news for our ozone layer, there are some factors to consider for homeowners, such as the extra cost that comes with this legislation, with a basic rapid charger currently costing around £800 (including installation). However, the Government is offering some financial support to those who need it, you can find out more here.
These new rules will mean approximately 145,000 more charging stations will be in operation in the UK after 2022. A huge step in the right direction to achieving net-zero emissions for the UK.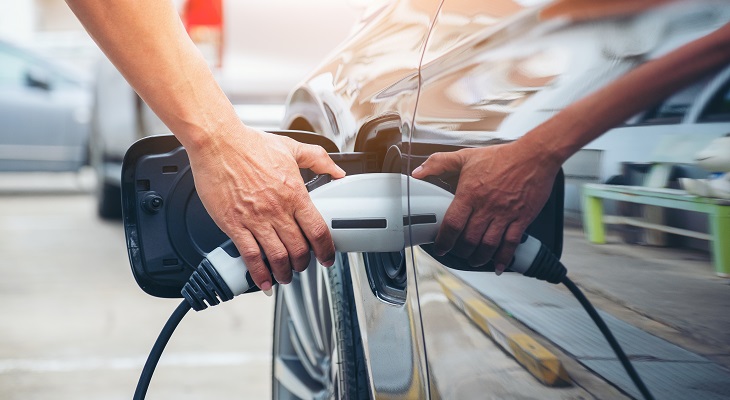 One benefit for new homeowners and developers is that experts are telling us that homes with EV charging bays could become a more desirable commodity in a few years' time. Meaning a potential increase in profitability from these new properties in the long run. Riverdale Leasing analysed the values of 1,000 homes across 50 UK areas in 2021 and found 76 per cent of UK homes with an EV charger showed an increase in value when compared to the local average. For the 38 out of 50 areas that saw a positive link between value and home charge points, the analysis showed an increase of £50,595, on average.
Guild Member, Huw Evans from Morris Marshall & Poole has first-hand experience of navigating the new legislation at a site he is currently marketing new homes on, in Mid Wales, built by WYRO Green Homes. He says; "We are sole agents on the site and have now sold 50 houses with the remaining houses to be released being net-zero carbon. The other homes were 'A' energy rated with circuitry for electric vehicle charging points. Soft marketing of the homes and facilities has seen significant interest from across the UK, prior to any official launch."
"The sustainable features have attracted buyers who are looking to benefit their environmental and carbon footprint but also leads to cost-saving for the occupiers of the home, with solar panels, air-source heating, triple glazing, and extensive thermal insulation making the homes extremely efficient to run, reducing costs. With new petrol/diesel cars not being sold in just 8 years' time, owners of homes with electrical charging will be one step ahead."
"When it comes to re-sale, it is a USP that is likely to benefit the onward sale. The owners will also be able to upgrade early to hybrid or electric cars early. Something that is currently unavailable due to the rural infrastructure of Mid Wales and lack of charging points publicly."
In addition to the sustainability and profitability benefits, there are also efficiency benefits to be considered! With home charging points typically charging a vehicle for between 15-30 miles per hour and the ability to charge overnight with a built-in EV charger, drivers could benefit from cheaper night-time rates from as little as 2p per mile, resulting in a massive saving on petrol and diesel costs.
Contact us
If you are looking to buy a new home in 2022, with an electric charging point, or without, find your local Guild Member.